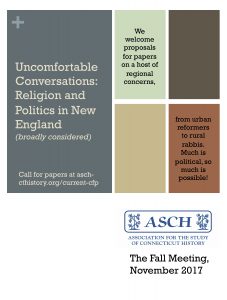 Coming soon: the fall conference will be held in November 2017, titled "Uncomfortable Conversations: Religion and Politics in New England (broadly considered). Find a call for papers here. Date of conference to be posted shortly. Proposals due June 30, 2017.
Our spring conference, April 1, 2017 at the University of Saint Joseph, was about using local sources in innovative pedagogies, with an afternoon session featuring Peter Baldwin discussing how we move from research in sources to creating new knowledge. Click the link for photos and the program.
Find fun goodies for sale here! Mugs and historical magnets make great gifts.
See the photos and program from our fall conference, "The Land of Steady Innovation: Connecticut and the New," held in early November.
Since 1970, the Association for the Study of Connecticut History (ASCH) has been promoting the study of the history of Connecticut via meetings and conferences.  In 1975, ASCH began publishing the Connecticut History Review, the only academic journal devoted to the history of Connecticut.  Our meetings, conferences and the Connecticut History Review serve many different constituencies:  academic scholars, museum and historical society professionals, history buffs, graduate students, and educators.